Shop Popular Half Cow Sizes
Discover our popular sizes: Half Cow, Quarter Cow, and Whole Cow. The Half Cow suits families seeking variety and savings, while the Quarter Cow is ideal for smaller households or bulk-buying beginners. For ultimate value and variety, choose the Whole Cow. Pick the perfect size and savor the quality of locally-raised beef.
Regular price

$250.00

Sale price

$250.00

Unit price

per

Regular price

$180.00

Sale price

$180.00

Unit price

per

Regular price

$250.00

Sale price

$250.00

Unit price

per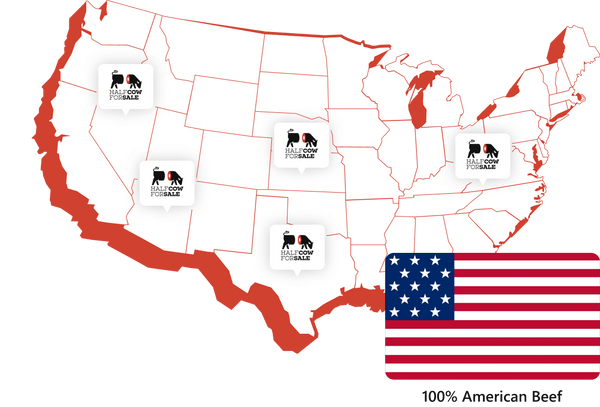 Cattle Born, Raised, & Harvested In The United States
Discover the ultimate farm-to-table experience with a half cow for sale near me! Save money and stock your freezer with premium, locally-raised beef that you know and trust. 
Our incredible half cow sizes provides you with a variety of cuts, from tender steaks to mouthwatering roasts, all while supporting local farmers and promoting sustainable practices.
Shop Now Why Buy Half A Cow From Us

Grass Fed

100% American Beef

No mRNA Vaccines

Free Shipping

No Added Antibiotics

Satisfaction Guaranteed

USDA Inspected

Sustainably Sourced
Common 1/2 Cow For Sale Questions
How Much Does It Cost To Buy Half a Cow?

The cost of a cow can vary greatly depending on the type and age of animal. Beef cows have prices ranging from $2,500 to $5,800. It is important to note that the cost of a cow does not only include the purchase price but also the costs associated with feeding and caring for the animal. When asking how much is a cow younger ones generally cost less than older ones as their weight is less.
Where Can I Buy A Half A Cow?

If you are looking for the best place to buy a half cow, we offer both whole and half cows for sale with free delivery right to your door. The half cow comes with pre-packaged cuts of beef that contain a half cow's worth of meat. Purchasing from us can help you save the hassle of ordering half cows with complicated weight systems and various fees. We offer a frictionless customer experience ensuring transparent, highly qualified half cows at a great price. We ship to the follwing half cow for sale United States locations. Whenever you buy from us, you can be sure that you're getting a good value for a half cow.
How Much Is Half A Cow?

When it comes to butchering a cow, the cost can be quite expensive and many people wonder whether it is worth the value. Typically, when you purchase a half or full cow, you will pay for the hanging weight of the animal. This means that the price per pound should be lower than what you would pay for individual cuts of beef from a butcher shop. The cost of buying either a half-cow or a full-cow from your regional farm will vary due to a lot of elements, but it is around $8.41 to $12.29 per pound. An additional fee for processing of $0.75 per pound is also applicable. Finished weight can be around $9.16 to $13.04 per pound.
How Much Meat Is In A Half Cow?

Estimating how much meat is in a cow is difficult as the amount of meat varies depending on the breed, size, and type of cow. Generally speaking, however, it is estimated that a whole cow can provide ~400 pounds of meat and a half cow will be ~200 pounds. This huge quantity of beef can be easily saved in the freezer meaning you can make less grocery runs while saving money in the long term.